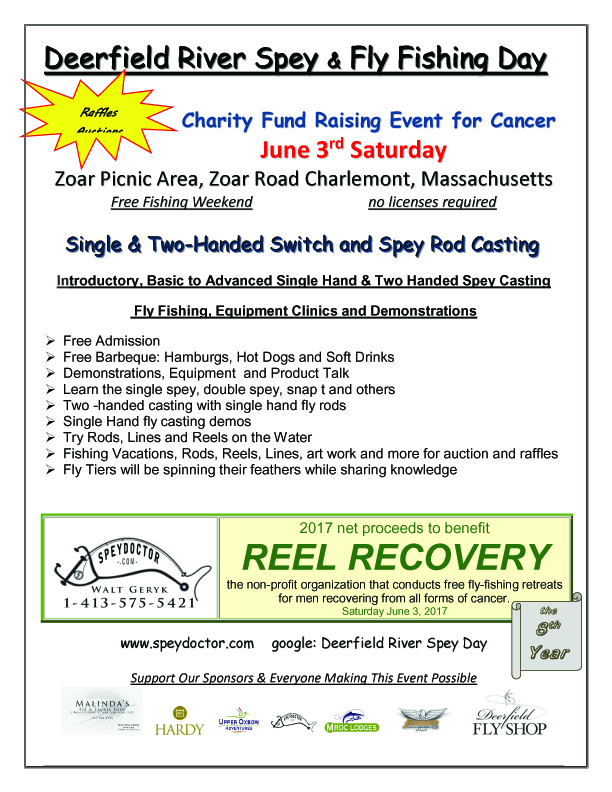 Single Hand & Two Hand Spey Casting, Fishing & Equipment Clinics and Demonstrations
Free Admission
Free Barbeque: Hamburgs, Hot Dogs and Soft Drinks
Demonstrations, Equipment Talk, Using the Right Lines and more
Learn the single spey, double spey, snap t and others that are used to cover rivers found most everywhere in the world.
Adapt spey casting to single hand fly rods to gain distance and eliminate back casting in awkward situations.
Single Hand fly casting demos this year..demos by tba
Try Rods, Lines and Reels on the Water
Fly Tying
Benefiting Reel Recovery
Free Fishing Weekend,

no licenses need

Sign up for the Deerfield River TU Single Fly Event Weekend
Please Support
those who make this event possible
| | |
| --- | --- |
| | |
| | |
| | |
| | |
| | Bob Carlson Custom Bamboo |
| | Hardy & Fenwick, Pure Fishing |
| | Vern-O Custom Flies |
| | Cote's Custom Rod Building |
| | Spey Doctor |
| | Fly Shack |
| | Mystic Fly Rods |
| | Reel Action Fly Fishing |
| | C.D Clarke, Fishing Artwork |
| | Bob Mead, Realistic Flys |
| | Dave Brandt, Treaditional Catskills |
| Scott Eno, Fish Gear Innovator | Jerome Farnsworth: Buck Bug Magic |
| | |
| | |
| FairWeather Fish Camp Staffs | |
| | |
| Itinerary | Two Hand Spey Demos & Discussion |
7:30 to 9:00 Set Up
9:00 to 9:30 Spey Casting and Spey Fishing
9:30 to 9:45 Rods, Lines, Reels, Lines,Leaders
9:45 to 10:30 On the Water Demonstrations
10:30 to 11:00 Interaction
11:00 to 11:30 Seminar tba
11:30 to ??? Fire up the Grills
12:00 to 12:45 and Lunch

cook till it's gone

12:45 to 2:30 Auctions and Raffles
2:30 to 3:00 more time available
3:30 to 4:00 Wrap up and Clean Up
Itinerary subject to changes

Rain or Shine

Malinda and Bobby : From the Salmon River New York, Malinda's Fly Shop will again be assisting the event throughout the day. In addition to the generous donations, their presence, gift of gab and logistical help are an important part of the event.
Walt Geryk: The event host will be sharing his knowledge of two and single hand casting and fly fishing. As the premier single and two handed fly and spey casting and fishing instructor, Walt will demonstrate casting and the advantages of two-handed switch rods and spey rods. Showing how to use your single handed fly rods with spey casts is a must see for added performances.
John Shaner of Hardy & Fenwick may be discussing and tying soft hackle wet flies along with sharing the new products for 2017.

Others To be announced Soon!
watch for added demos and sponsors

Show Your Support by Patronizing
all our Sponsors and Donors.
Their generosity makes this annual event possible.

thank you to my annual assistants
Chuck "Chuckles" Dimidio
Malinda & Bobby
Mike DiDonna
and all the other volunteers who make this day possible

Verno, of Verno Custom Flies, will be attending for his 2nd year demonstrating his commercial skills.
Big Jim Frioro will be entertaining the crowd with his spins around the vice.
Isak Kulalic, at 20 years old, will be dressing out some classic patterns as well as tying some fish getter trout flies. His passion and dedication to art of dressing and tying flies is evident as everyone enjoys watching him spin those feathers.

Along with sharing their sense of humor and experience, everyone is sure to have some laughs while picking up tips and tricks of fly tying and tying equipment.
Don't Get Lost!

click here for DIRECTIONS to Deerfield River Spey Day
"Learn to present streamers, spey flys, wet and dry flys in all conditions."
Traditional Fly, Spey and Switch Rod Fishing New York and Massachusetts at it's Best!
Practice and Promote Ethical Angling & Catch and Release!
Reel Recovery and Walt geryk, the Spey Doctor have teamed up to raise money for sponsoring fly fishing retreats for men inflicted with cancer. The Deerfield River Spey and Fly Fishing Day is the largest single one day fundraiser event held annually with total net proceeds going to this cause. The annual event is operated by a group of volunteers dedicated to this charity.The Deerfield River Spey and Fly Fishing Day is a can't miss event held on the banks of the Deerfield River in Charlemont Massachusetts.
© Copyright 2017 by Walter Geryk and SpeyDoctor.com. All Rights Reserved.