Dinner Menu at The Tailwater
Entrees
Fish & Chips
Beer Battered Fresh New England Haddock,
Hand-cut French Fries, Apple-Cinnamon Cole Slaw,
Lemon, House made Tartar Sauce
8 oz. Grilled Tenderloin Steak
Cabernet Demi-Glaze, Jumbo Baked Potato,
Chef's Vegetable
Parisian Chicken
Lightly Sautéed with Fresh Lemon Juice,
White Wine, Butter & Fresh Herbs,
Served with House Rice, Sautéed Baby Spinach
Grilled Shrimp & Angel Hair Pomodoro
5 Jumbo Shrimp Sautéed with Extra Virgin Olive Oil,
Sliced Garlic, Oven-Dried Tomatoes, Fresh Basil,
White Wine, Asiago Cheese
Meatloaf
Grilled Asparagus' Garlic Mashed Potatoes, Red Wine, Gravy
__________________________
All Entrees Include
Fresh Dinner Rolls, Soup or House Salad with Choice of Dressing
Soft Beverages, Coffee and Desert
_____________________________
Breakfasts & Lunches
2-Hot or Continental Breakfasts
2- Boxed Lunches: to include wrap/sandwich, fruit, chips, dessert, beverage.

gluten free substitutes available for this menu
_____________________________
Lodging at the Tailwater
Two Nights
The Tailwater Lodge has 42 luxurious guest rooms and a state-of-the-art conference facility with available seating up to 90 guests. Dinner is served in the Tailwater restaurant, where rustic atmosphere meets metropolitan flair. Guest room amenities include high-speed wireless internet, cable TV and in-room refrigerators. A hot breakfast, served early to accommodate fishing expeditions, is included in the room rate.

Check in time is 3:00 PM; check-out time is 12 noon.
Dble. Occupancy is included.
Single Occupancy is available with an additional charge of $119.00 per night plus taxes and fees.
Tips and Gratuities not included
_________________________________
These services are offered exclusively by the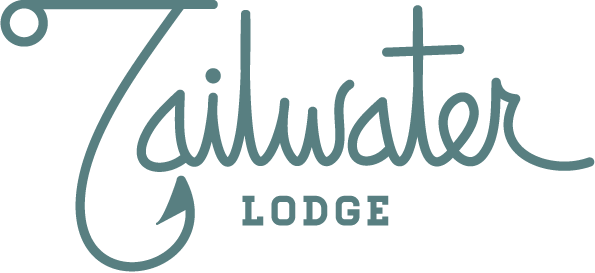 for
Walt Geryk's Spey Casting and Fly Fishing Schools & Services
The Tailwater Lodge reserves the right to substitute any menu item with a comparable choice.

New York State Law Requires a Notification that Consuming Under-Cooked Meat, Poultry or Shellfish
may Increase the Risk of Food-Borne Illness.